Ask the Company
Hitachi Systems & Services, Ltd. Expands XML Business with "1,000 XML Masters"
Hitachi Systems & Services, Ltd. has been aggressively promoting the XML Master certification within their firm. We interviewed Mr. Shigeaki Takeuchi, Director of Business Planning & Development, about the background of "1,000 XML Masters" at Hitachi Systems and the future of the firm's XML business strategy.
Why "1,000 XML Masters?"
Hitachi Systems is the main systems integrator for the Hitachi Group, and we employ about 4,000 engineers. Our role is to take on individual technology projects, propose systems, and build systems in various business fields, including finance and logistics. When the XML Master certification was introduced in 2001, we felt that our systems engineers needed to understand the salient features of XML to be able to offer appropriate advice to our customers. Beyond understanding programming languages, our systems engineers have to have the capacity to assess how each element of technology should be used. Every one of our engineers must be able to have their own persona as a consultant, be able to clearly communicate with the customer, and be able to propose the right solution. This is the reason that we launched the "1,000 XML Masters Training Project" in our firm—so our engineers would achieve professional competence in XML technology.
In-House Initiative to Train 1,000 Professionals
Giving themselves only a short two years to reach 1,000 XML Masters, Hitachi Systems knew it would have to create a formal program within the company. The first thing the company did was to hold an in-house XML course, allowing engineers the opportunity to receive formal training in preparation for the XML Master test. Next, Hitachi Systems established an award system, paying a one-time benefit to XML Masters, as well as reimbursing test fees—measures designed to increase employee motivation to become certified. Hitachi also reported the progress of XML Master recipients at regular company-wide meetings, making special mention of departments with good achievement rates, to generate a more competitive spirit among departments lagging behind.
Hitachi Systems XML Business Strategy
Hitachi Systems is currently devoting significant corporate resources into XML-based business solutions. The market for XBRL (a standard format for XML-based accounting/ finance information), NewsML (an XML-based news broadcast format), XVL (an XML-based specification for compressing 3D CAD data without degradation), and other XML technologies has finally taken off, and Hitachi Systems is working to support the creation of business applications using these formats. In the XBRL area, Hitachi Systems is already marketing a packaged solution called XiRUTE that supports consolidation accounting by linking various business applications with the organization's ERP system.
Hitachi Systems has also indicated its intention to pursue new areas of technology, including Web services and grid computing.
Business Success Achieved through 1,000 XML Masters
Beyond the original goal of developing systems engineers capable of proposing effective XML solutions to customers, Hitachi Systems found that their professionals were also motivated to generate new business opportunities using XML as a lead-in. As shown in Figure 1, the number of XML-related projects at Hitachi Systems increased dramatically in conjunction with the number of XML Masters within the firm. An article in the Nikkan Kogyo Shimbun featured the achievement of 1,000 XML Masters at Hitachi, mentioning that the firm received a special award for achieving 1,000 XML Masters at "XML Master Day 2003." These and other developments at Hitachi Systems gives one the sense that Hitachi has become highly regarded for its aggressive stance in pursuing XML and other new information technologies.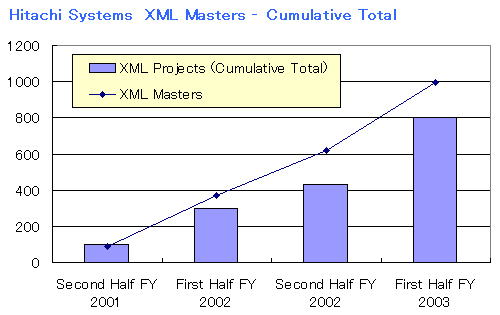 Figure 1
No. of XML Masters and Increase in No. of XML Projects won by the Hitachi Systems Professional Services Department