Introduction to XML Certification Program: XML Master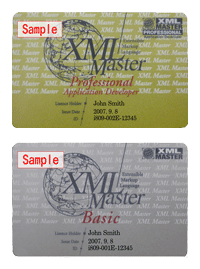 The "XML Master" is a professional certification designed to assess an individual's technical expertise with respect to XML and XML-related technologies. More than 17,000 professionals across the world have already obtained an XML Master certification. Becoming an "XML Master" not only enhances your own technical skills, but can also improve customer satisfaction. The "XML Master" is a proven indicator of employability, advancement and career planning for IT engineers. Having the XML Master logo proves to both clients and colleagues that you are a certified XML technology professional.
XML Master Exam Development Concepts
The XML Master examination was developed according to three basic concepts: (1) Be a "professional certification always relevant to the times;" (2) be useful as an aid in "practical training for systems engineers;" and (3) be "an appraisal of one's true technical expertise."
2 Levels of Certifications
The XML Master consists of two certification levels―the "XML Master Basic" certification and the "XML Master Professional" certification.
Benefits of the XML Certification
Since the XML specification was established in 1998, it has remained largely unchanged to this day. Now that XML is so widely used, altering the specification has become prohibitively difficult, and there are no known plans to make any changes. Accordingly, once an IT Professional has learned XML, the knowledge and skills will be useful for a very long time.
Why a vendor-neutral XML Master Certification?
(1) The value of a vendor-neutral certification is not affected by the rise and fall of a particular product. A vendor-neutral certification proves the mastery of versatile and universally applicable technical skills.
(2) No updated exams are required whenever a product upgrade is introduced. Accordingly, IT Professionals won't have to retake a test that may interfere with work.
(3) Knowledge related to XML Master certification is applicable to a variety of IT fields and products, rather than limited to certain specific products. This is a powerful career advancement aid for the IT Professional.